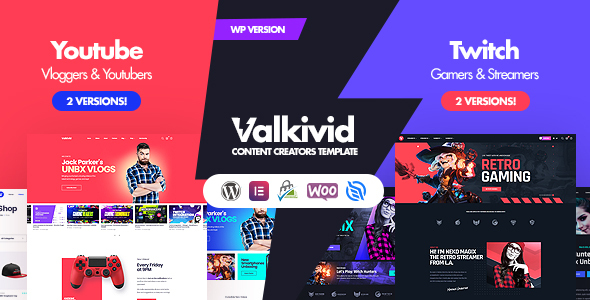 Valkivid – Content Creators WordPress Theme
We created a theme with all you may need if you are a streamer, vlogger, youtuber or any video content creator!
With 4 different versions (2 Vlogger and 2 Streamer) you can choose the one you like the most! Including blog, shop, memberships, streams, videos pages and much more!
Dedicated Pages & elements on each version!
The versions were created having in mind everything you may need if you are a Vlogger or Streamer. From featured videos and video spotlights, streams with chat, to affiliates pages so you can promote your links and a super complete shop to sell your merchandise.
SAVE 72$$$$ Struninn Plugins included with the theme!
Included in the pack are 4 Struninn plugins (Elementor Widgets + WordPress shorcodes): Twitch Streambox with Chat, Twitch Schedule, Youtube Subs Counter and Youtube Feed & Playlist Slider! We created these ones to make it easier for you to add things like videos, streams, schedule and more to your theme!
WooCommerce complete shop pages
Easily set up your shop to sell your merchandise! We used WooCommerce to create a dedicated shop for each version, with styled product cards, product pages, mini cart, shoppping cart and checkout!
Offer Memberships and monetize your content
We made the theme compatible with the Paid Memberships Pro plugin so you can create and offer additional content that people can unlock, like exclusive resources, tutorials, premium blog posts or store discounts!.

Source